Today, we will talk about one of the most famous Tomato festivals of Spain which has been celebrated here from a long term ago from about 1945 during the festival of little rabbit in the area of Valencian town of bunol where the animals were eating watermelon and people used to throw tomatoes on them and further also, a couple of theories are also here which represent the introduction of this enjoyable festival.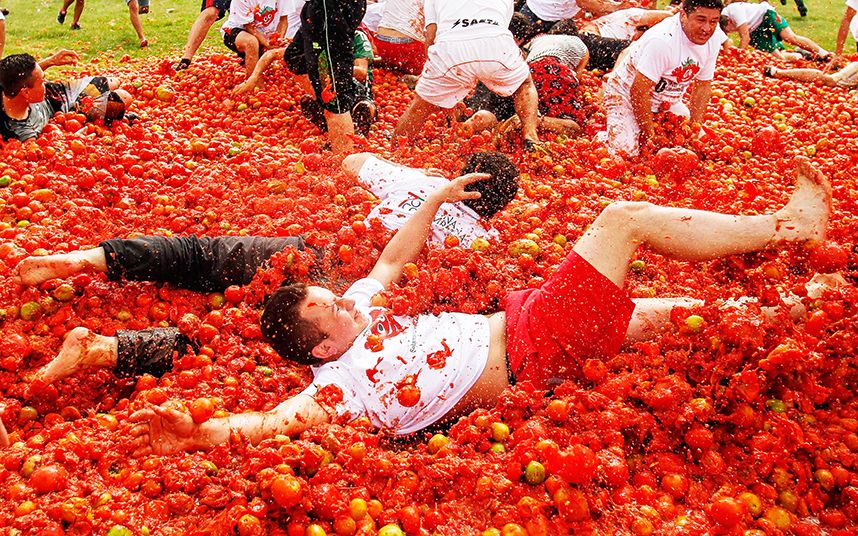 After enjoying the same festival every year subsequently, it became a tradition for each and every resident of Spain. In this way, celebrating the same thing constantly, in the year 1957, the game found the name of Tomatina and started celebrated by all the people there as all the other common festivals. The special year in the year 1957 happened that some of the youngsters planned to enjoy this time's fest with singers, musicians, and comedians.
Every year, this festival starts at 10 AM and the beginning of the festival is made with the ham taking down. Actually, a piece of ham is hanged on a greased poll and said to the crowd for taking it down. As the ham took down by someone, the fest begins with music, shots of water from hoses and the trucks enter which are full of tomato.
The estimated quantity of tomatoes used at this entertaining occasion is around 40 to 45 metric tons. After the perfect timing of one hour with the second shot of water, the entire festival comes to an end. After that, the full of water truck hoses are left down on the roads for helping the participants remove the tomato paste from their body and also for cleaning out the streets as same as before.