Good Morning Poems for Girlfriend: These times are quite routine less. You wake up every day to just lie in bed and obey the quarantine rules. You don't have any work to do because of the lockdowns and all the anxiety of the pandemic. And due to all this, there is no morning ritual left in you or your girlfriend's life. This mundane and boring daily schedule can dry things between you and your girlfriend. Do not let this happen to your relationship. Break this mundane day and start her morning with a cute Good morning poem for girlfriend.
Good Morning Poems for Girlfriend
1. I am not a psychic
Or an astrologer
Neither do I claim
To be a fortune teller
All I can predict
For the future
Is that, with you my life
Is sure to be brighter
Good morning
2. Another beautiful day
In my life has come
And it makes me feel
Really awesome
For this is one more day
That we'll spend together
Making promises
To always be with each other
Good morning
3. Radiant like the morning sun
Sweetheart, you are the one
Beautiful like morning dew
Baby, that girl is you
Misty like the morning skies
Darling, are your beautiful eyes
Soft like the light of daybreak
I think only of you when I'm awake
Good morning
4. Every day brings
So much more
To look forward to
Fly high and soar
Every moment brings
So much delight
Just being with you
Makes everything feel right
Good morning
5. Nothing makes me sad anymore
Nothing puts me down
Nothing makes me upset
Nothing makes me frown
To make me feel low
Nothing has the power
For I wake up every morning
Thinking of our life together
Good morning
6. I'm sure you look more beautiful
Than what you did yesterday
The sun must have made you
More radiant with every ray
There's yet another thing
Of which I am sure
Is that I am crazier
About you, than before
Good morning
7. Every morning is a gentle reminder
Of all the times that we've spent together
Times that are fun, spontaneous and carefree
That's how I always want us to always be
I want every morning to unfurl
Happiness for both me and you girl
I wish that every day from now on
Neither of us ever becomes forlorn
Good morning
8. Good morning, my rose
My beautiful daisy
Without you each day
Seems dull and dreary
If not for your dewy eyes
And your lovely fragrance
There would be no
Meaning to my existence
9. Every morning is a chance
To make you beam
Every day is an opportunity
To make you dream
Every moment is an option
To make you happy
Every minute is an occasion
To love you unconditionally
Good morning
10. The sun makes me see
Life's most beautiful things
Its radiance reminds me of
The way you've given me wings
The haze of each dawn
Brings in a sense of bliss
It makes me realize how
With you, nothing seems amiss
Good morning
Good Morning Poetry for GF
11. My days are incomplete
Without you sweetheart
Nights are painful because
With you, I never want to part
The only days that don't
Seem to be never-ending
Are the ones that I spend
With you all morning and evening
I love you
12. The colors of sunrise
Seem to fade away
The hues of the morning mist
Seem less impressive everyday
In front of your beauty
None of them stands tall
Compared to your radiance
Even the sun feels so small
Good morning
13. In life, you will do
Amazingly well, I know
Even then some more hope
To you, I want to show
May you reach heights
That you can never imagine
May this morning give you
The courage to begin
Good morning
14. Before you came into my life
Waking up was a bore
I used to hate it so much
It almost felt like a chore
After you came into my life
Mornings have become magical
It reminds me of meeting you
And that makes my day special
Good morning
15. Whether you drink
Tea or coffee
It won't make a difference
Too significantly
Whether you prefer
Hot chocolate or chamomile
It won't matter at all
How you really feel
For as long as we are
With one another
I promise to make your mornings
Steamier than ever
Good morning
16. I start my day
With a steaming cuppa
But inside that cup
What's hidden is euphoria
It's the anticipation
Of seeing your lovely face
The beautiful thing
In life's crazy race
Good morning
17. I am late for work
I am a little shabby
But I still have time
To text you good morning sweetie
I know I'm going to get
A piece of my boss' mind
But if you send me a kiss
I will trudge through this grind
Good morning
18. May your wake-up call
Be my text
Prompting me
What to do next
May your alarm clock
Be my voice
May hearing it
Make you rejoice
May every morning of yours
Start with me
Wishing a good morning
To a girl like you so pretty
19. Every morning
Brings in a new day
For me to feel your love
And have my breath taken away
Every morning of mine
Wouldn't be the same
If I didn't wake up
Chanting your sweet name
Good morning
20. Mornings will come
Then they will go
But I will always be there
I hope you know
The sun will rise
It will go down too
But I will always
Be there for you
Good morning
Romantic Poems for Her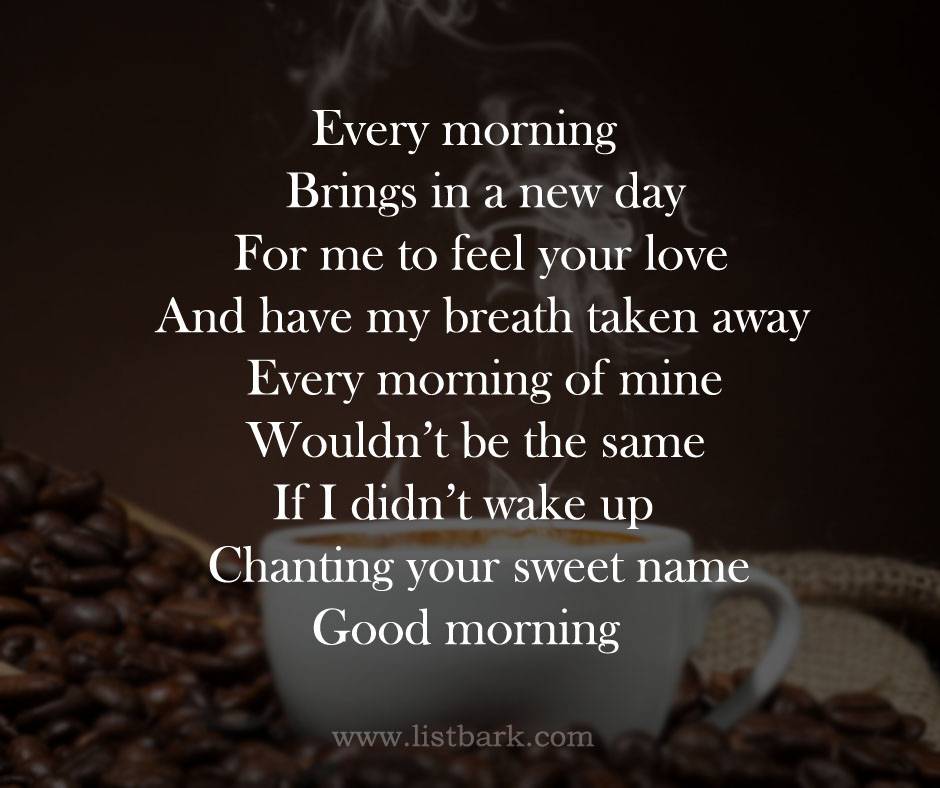 21. The anticipation
Is killing me
I cannot wait
To come and see
The beautiful girl
Who I call my girlfriend
The girl who I
Love to no end
Good morning
22. Every morning makes me feel
Relaxed and calm
It's like someone has applied
A really soothing balm
You are the reason
For all this tranquility
I hope such a feeling
You always give me
Good morning
23. I want this message
To give your day a kick-start
For I have written it
From the bottom of my heart
I want you to read it
And feel terrific
I want it to make your day
Nothing less than fantastic
Good morning
24. I wish I could jump out
Of your phone's screen
To convey what your presence
In my life really means
I wish I could run over
To your place right now
To show my love to you
And that I miss you and how
I wish I could wake up
Next to you everyday
To wish you good morning
Before the sun's first ray
Good morning
25. I used to hate weekdays
But they don't bother me anymore
Going to school everyday
Doesn't seem like a bore
For every morning brings
A new chance to meet you
That is the reason why
None of this makes me blue
Good morning
26. I know that you will
Have a lovely day
For I have planned it
In a really cool way
I will pick you up
After you finish office
We'll start our evening
With a lovely kiss
The rest of the plan
Will be a surprise
Whatever it is
I promise it'll be nice
Good morning
27. Today there is no rainbow
But your day will be colorful
It's a dreary morning
But your day will be beautiful
Today the sun isn't so bright
But your day will be dazzling
That is because you are
Nothing less than amazing
Happy birthday
28. My girlfriend isn't just my girl
She is my lover and my best friend
I feel great when I'm with her
On her, I so depend
She's why I wake up every morning
Her voice is all that I want to hear
All that I want to confess today
Is that without her, I see no future
Good morning
29. A beautiful morning like this
Makes me want a hug and a kiss
My steamy cup of coffee
Makes me want to get cozy
This warm and tranquil sunrise
Reminds me of your lovely eyes
Everything about this morning
Makes me want to be with you darling
Good morning
30. You've painted my mornings
Bright red instead of blue
My world will be colorful
As long as it has you
It will be full of swirls
Splashed with light and color
May it always be like this
Not just now, but forever
Good morning
Final Words:

Waking up every day to do the same stuff as usual or nothing at all can be depressing and monotonous. But your single Good morning text can make her day. And imagine what happens when you attach some good morning poems for girlfriend with your text! That gesture will brighten up her morning so much so that she will not depressed or sad for the coming events. These trying times are taking a great toll on our collective mental health, but you have the opportunity to change that every morning! You can use any poem from our collection to please her into happiness.