This is not to say that traditional Shakespeare isn't cool – it's just that it's often seen as the outpost of theatre and/or English majors, and pretentious ones at that. Shakespeare was a writer for the people – the dirty, beer-swilling masses of his day. And one of the beautiful things about Shakespeare is the ability of the stories to transcend time and place. So let's celebrate those films that make Shakespeare cool, bringing him back to the dirty, beer-swilling masses of today. In honor of Joss Whedon's production of Much Ado About Nothing, which is sure to top the list next time.
Here are the coolest Shakespeare adaptations on film:
10. Hamlet (2000)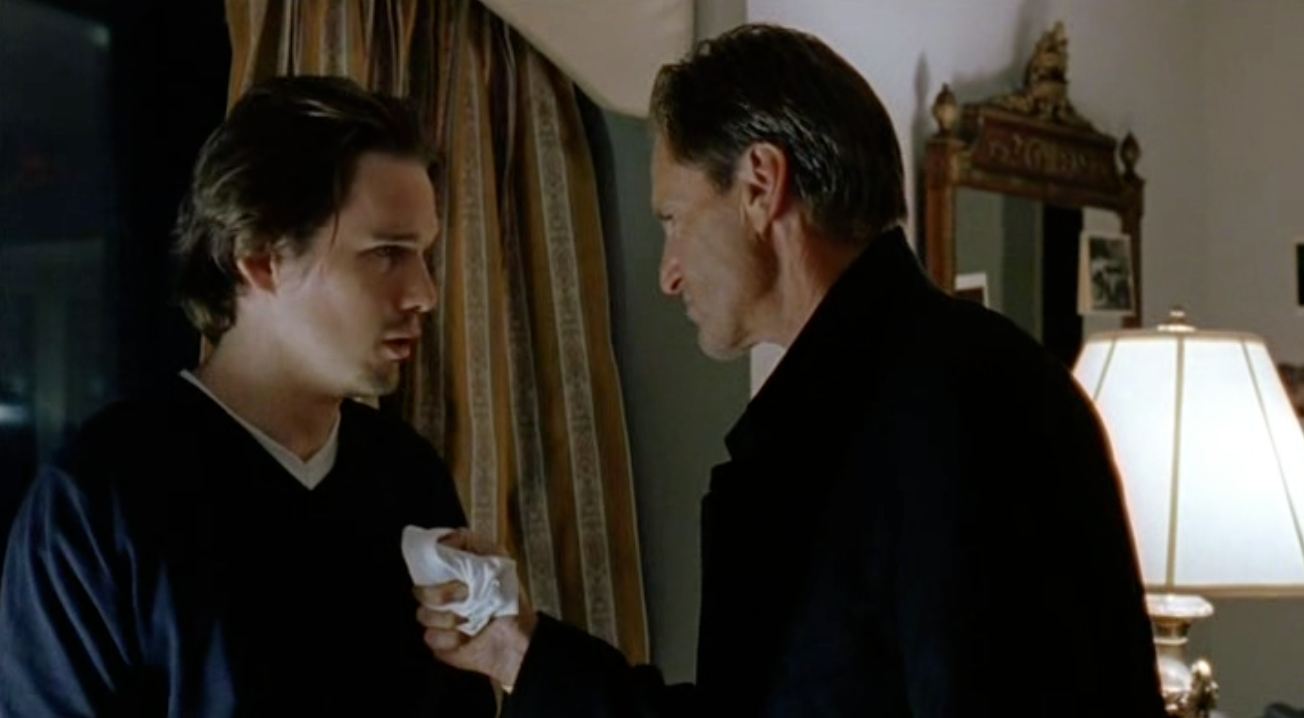 How to update the story of the most angst-ridden character in literature (pre-Daria?) Put Ethan Hawke in the title role; he's been the poster boy for angst since 1994's Reality Bites. Turn Denmark into the Denmark Corporation, and cast the supporting actors equally brilliantly; for example, Bill Murray as Polonius? Genius! And very, very cool.
9. Forbidden Planet (1956)
A retelling of Shakespeare's The Tempest which has come to be viewed as the pinnacle of 1950's pulp sci-fi. The setting is changed from a desert island to a desert planet, the magic in the play changed to advanced alien technology, and some key plot points are just plain changed, but the characters and themes translate remarkably well.
8. My Own Private Idaho (1991)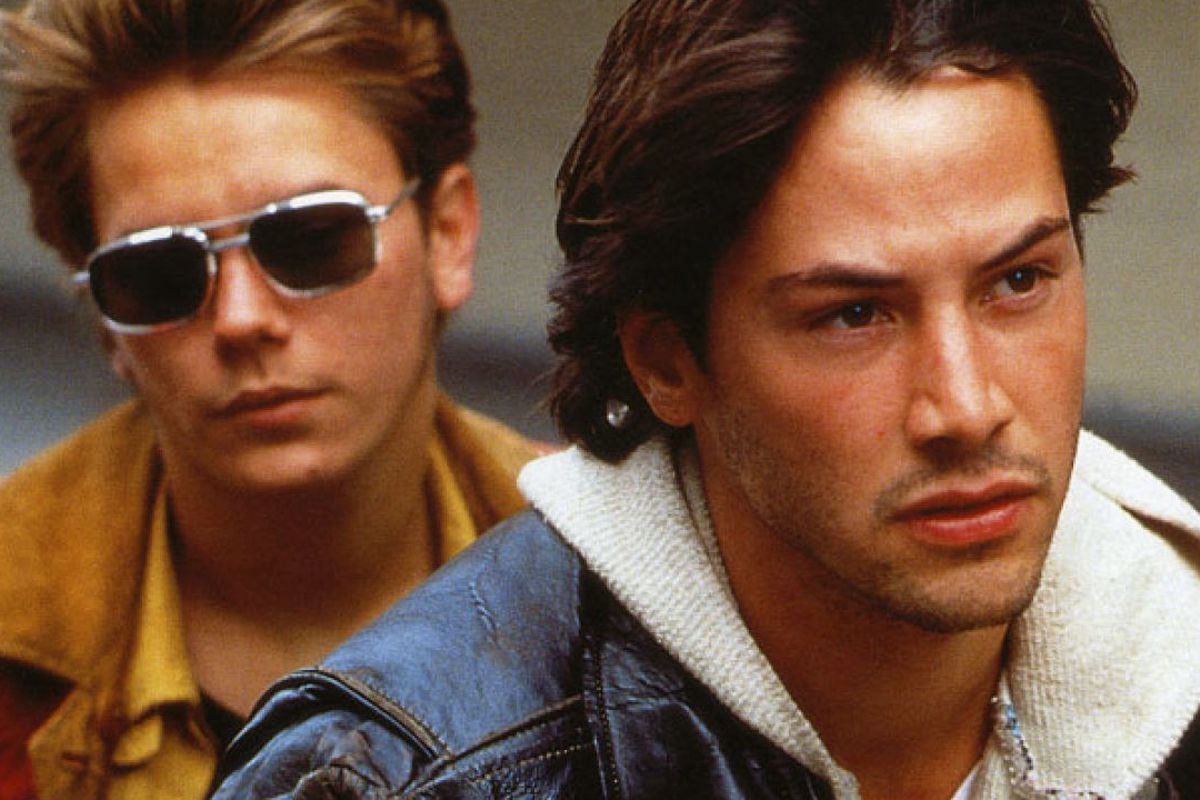 Gus Van Sant's retelling of Henry IV is surely one of the more creative reimaginings of the classic plays. He took Henry IV parts I and II, a bit of Henry V, but turned the dissipated heir to the throne into Keanu Reeves' rent-boy son of an Oregon politician; and blended it with the story of a narcoleptic street hustler's search for his lost mother. The result is a brilliant, darkly comic story of love, loss, and desperation. Love the film or hate it, River Phoenix's brilliance in the main role cannot be denied.
7. Romeo + Juliet (1996)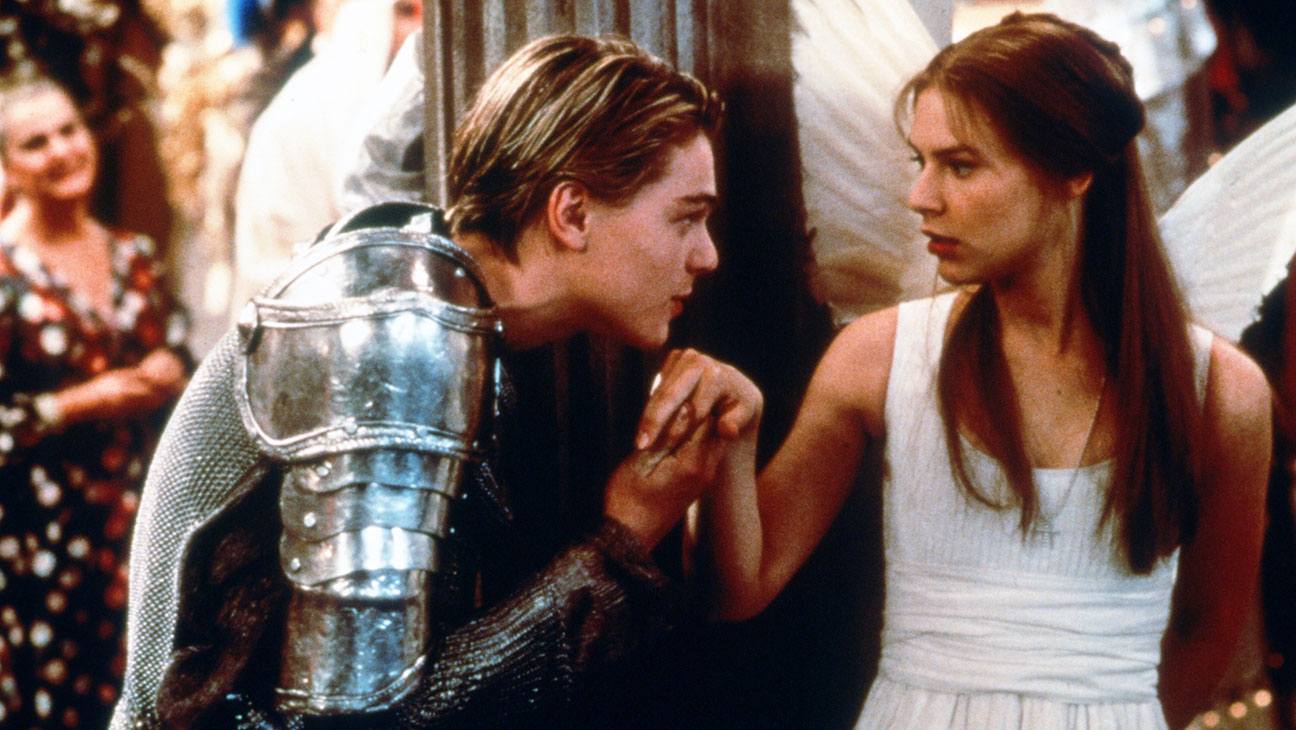 In a beautiful production of Shakespeare's familiar tragedy, Baz Luhrmann took the original dialogue but had it spoken in a modern setting Verona Beach, instead of Verona, Italy. Again, inspired casting choices made all the difference with modern heartthrob Leonardo DiCaprio as Romeo, and the luminous Clare Danes as Juliet. At heart, Romeo and Juliet is the story of two stupid teenagers acting like stupid teenagers and coming to tragic ends – but the fact that Luhrmann could take a story so well-known and make it compelling viewing even with anachronistic dialogue – is a testament to his, and the actor's, genuine talent.
6. Richard III (1995)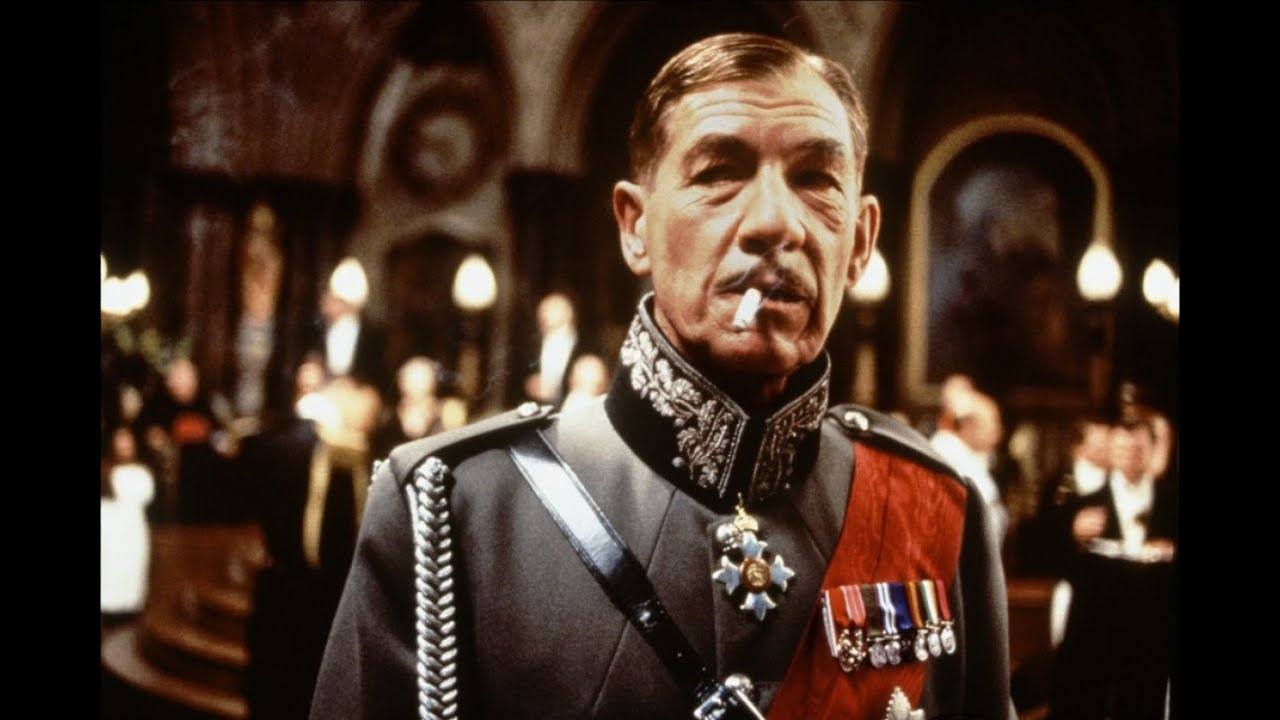 Another production that kept the original dialogue but modernized the setting, Richard III tells the story of Richard's rise to power but is in an alternate-universe 1930's England where Richard sides with fascists in hopes of becoming king. Superior performances by the supporting cast, including Robert Downey, Jr. and Annette Bening bring the story to life.
5. 10 Things I Hate About You (1999)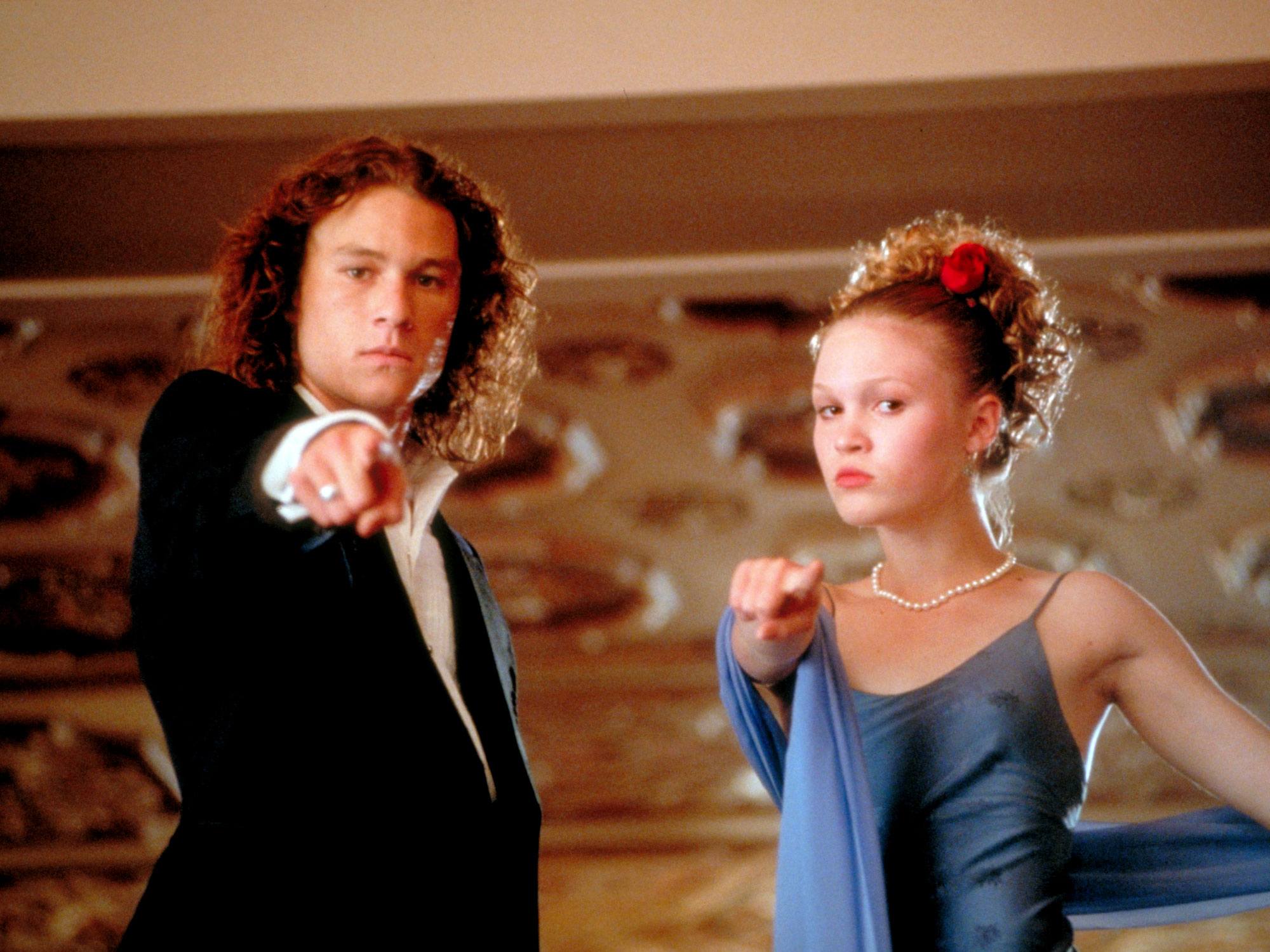 Julia Stiles is the unofficial queen of Shakespeare modernizations – she was Ophelia in Hamlet (#10 on this list), Desdemona in O (which is not included on this list, because it's ridiculous, but not in a good way), and Katerina in this adaptation of The Taming of the Shrew. The setting is changed to Padua High School but the basic story remains the same: popular Bianca can't date until her elder sister dates as well. As always, the centerpiece of this story is the interplay between Katerina and Petruchio (Kat and Peter), and the chemistry between Julia Stiles and Heath Ledger is incredible, elevating this film above its teen-romance trappings.
4. Rosencrantz and Guildenstern are Dead (1990)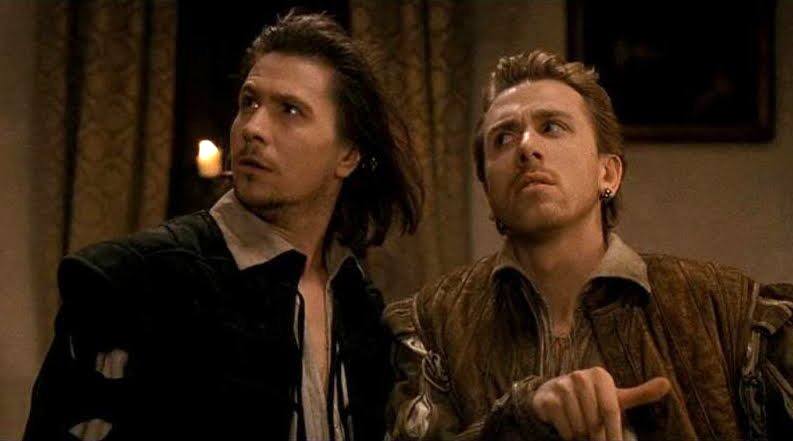 Tom Stoppard's play about two minor characters in Hamlet, which addresses the nature of art vs. reality in a deep and often hilarious way, is brought to life by Gary Oldman and Tim Roth in the title roles. The action in the film takes place mostly when the characters are offstage in Hamlet, although the storylines cross over one another. The famous play-within-a-play takes on new life when it becomes a play within a play within a film of an entirely different play. Is it any wonder that this is the format in which to question the nature of art vs. reality when it causes a sentence like the previous one to be written?
3. Chimes at Midnight (1965)
Oddly enough, the same year that Tom Stoppard's play Rosencrantz and Guildenstern are Dead appeared at the Edinburgh Fringe Festival, Orson Welles' tribute to Falstaff premiered at Cannes. Weaving together bits of Henry IV, Parts 1 and 2, Richard II, Henry V, and The Merry Wives of Windsor, Chimes at Midnight explores Falstaff's relationship with Prince Hal and was described by Welles himself as a film about betrayal of friendship'. While not well-received at the outset, Chimes at Midnight is now regarded by many as Welles' true masterpiece, beyond even Citizen Kane.
2. Scotland, PA (2001)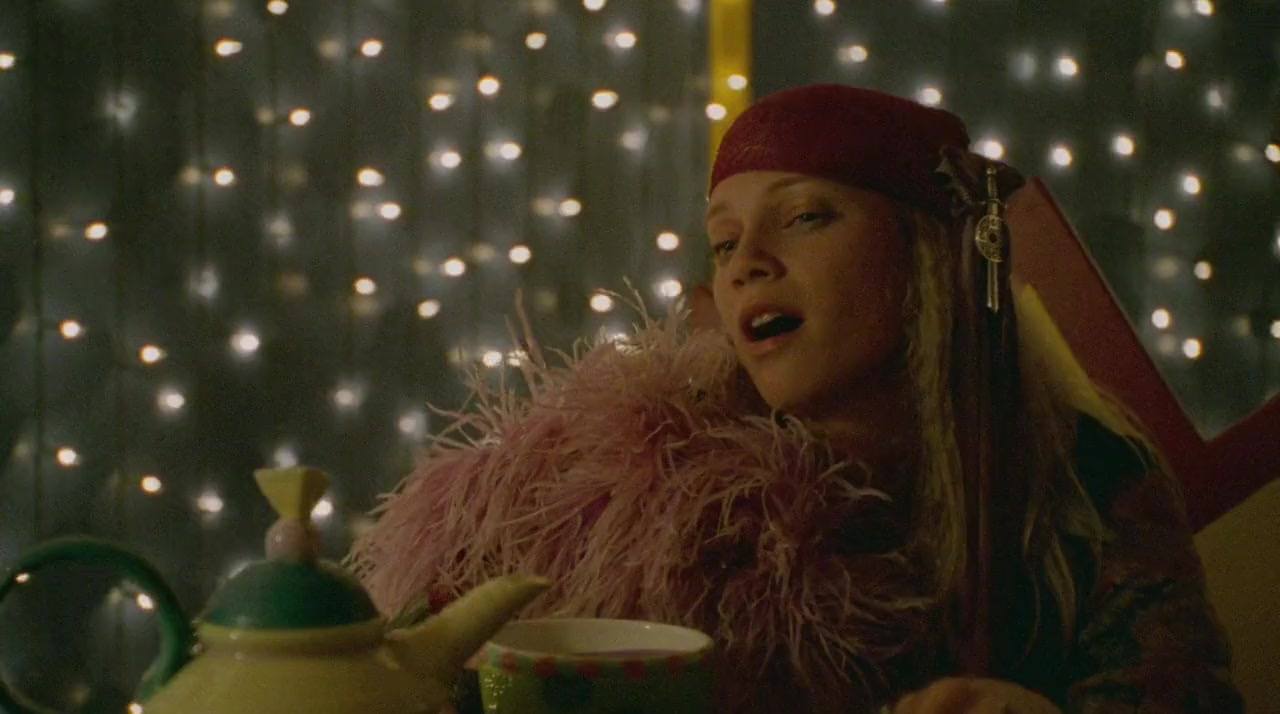 While not to everyone's taste, this modernization of Macbeth is hilarious, bizarre, and flat-out crazy, and definitely worth seeing. Joe McBeth and his wife Pat work at a fast-food restaurant in the 1970s, and she believes they'd do a much better job than the current manager, so she convinces Mac to murder him in a faked robbery and take his position. Banquo is a fry cook, Amy Smart, and Andy Dick are two of the three witches, and Christopher Walken is Lieutenant McDuff, who brings the couple to justice.
1. Ran (1985)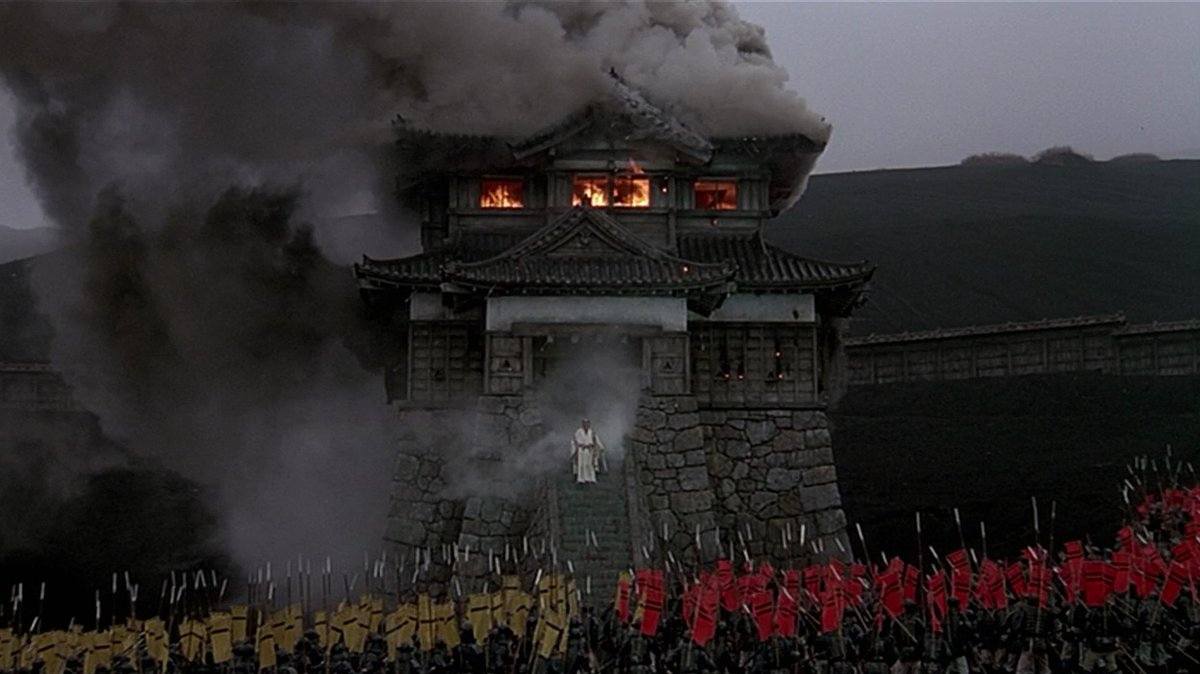 While Akira Kurosawa said that he began Ran without intending it to be an adaptation of King Lear, he came upon it during the writing process, and in the end, made an absolutely stunning modernization of the story. Lear is a samurai warlord and his daughters are sons, but other than that the basic story remains the same. A visual and storytelling triumph, Ran shows the beautiful art that results when a master is in the hands of another master.